Click here for more links
Karin Eisermann, Artist
I'm wondering, what is important enough about myself that strangers, who check out my website ,would like to know about me? Or what friends, who know me, haven't known so far?
Well, I was born in Germany and immigrated to the USA in 1982. I was always interested in Art and as soon as I was in Vermilion, Ohio, I was asked by a neighbor if I wanted to teach a tole painting class at the WMCA . I had no idea what tole painting was or even how to speak proper English but said yes anyway. I think I learned more than my students because I had to study the subject in depth first including the approbriate words for the subject, like brushes, palette knife, medium and so on.... I taught more than one class there. Later on I opened my own studio in Vermilion,Ohio and also rented space at a country store in Birmingham, Ohio. I continued to teach and produce tole paintings in both places until my husband took on a new job close to Chicago and we moved there.
Both our sons had left home for college by that time and somehow I had the urge to change my artistic endeavor ,hung up the tole painting and concentrated on producing fine art exclusively. I joined a few art organizations and after a while entered art competitions.
Then my husband retired and we started to spent 6 months in Florida and six months in Ohio on the shores of Lake Erie on Catawba Island. We had a spledid time at either place but producing art became now difficult for me, nothing was ever where I needed it and I really couldn't join art organizations or attend art competitions because I was always at the "other" place.
That changed this Summer because we gave up the place in Catawba and located full time to Punta Gorda, FL.
Right now I'm working on this website, correcting the mistakes and adding paintings I have done since I set this website up. I have plans for new paintings, of course!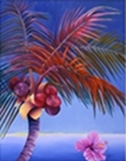 This is my first attempt at a palm tree. I find most of them so unattractive that I want to give them a lot of artistic flair.
Find more palms here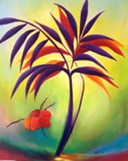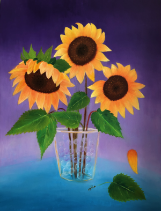 Sunflowers inpired by Fall in Ohio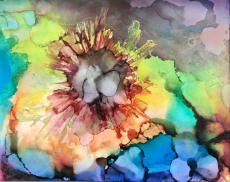 These are two alcohol ink paintings, done on a 4" x 4" tile.
You can order any amount of tiles you wish, they will be all different but always in the colorscheme you choose.They have felt on the underside and are glazed so they can be used as coasters.
$ 20.00 plus shipping for 6 tiles
Click here to order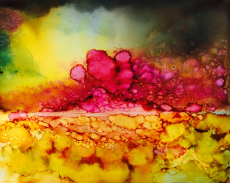 One of my favorite quotations by Picasso is this:
" Painting is a blind man's profession. He paints not what he sees, but what he feels, what he tells himself about what he sees."


I can honestly say that this sentence describes my relationship to art in some way. There is no doubt that I feel something different every time I paint a sunset or when I paint the same tree for the third or fifth time.Therefore I'm searching and looking and trying out new things all the time. Along the way I do find all kinds of answers: discoveries of myself, my preferences, dislikes, what gives me pleasure and why. Painting is not only a way to self-knowledge. It is also a sure way to figure out what inspires your friends, aquaintances, your neighbors and total strangers. I'm always amazed how works of art can please some people and annoy so many others, inspire some and leave others totally indifferent. The real challenge for me is to be able to express my own feelings to the viewer of my paintings. I'm therefore not so much interested in painting what I see but more in painting what I felt when I saw or understood.
Right now I'm in the process of overhauling this website. Hopefully it will not take forever!

Please email me if you want to get in contact